Skip to Content
Long Arm Quilting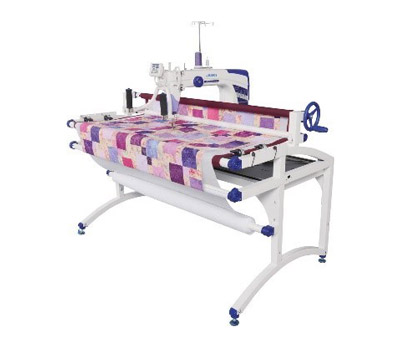 J350 Miyabi w/10 ft Frame
Introducing the new Juki Miyabi 350QVP, a machine built for creative quilters that strive for high quality, professionalism and an abundance of of features enriched to help you create your perfect vision.
MSRP: $12,999.99
Sale Price & Purchase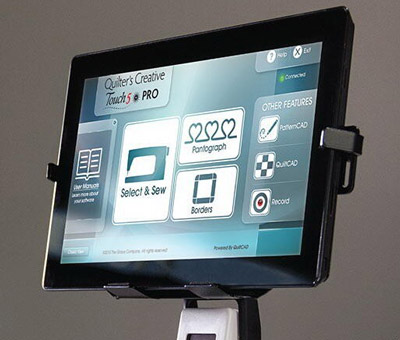 Quilters Creative Touch
Quilter's Creative Touch 5 PRO Quilting Robot is the top-of-the-line automated quilting system with the ability to create stunning designs through flawless execution. Customers will love how easy and user-friendly this software is compared to similar products on the market. QCT 5 Pro is a complete "flow-through" system for your entire quilting process. Everything including pattern creation, design, editing, pattern-placement, and of course quilting, is all contained in the same software without the need to switch programs.
MSRP: $8999.99
Sale Price & Purchase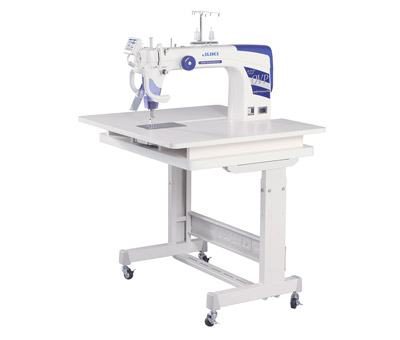 J350 Miyabi Sit Down Table w/ Stitch Regulator
JUKI Miyabi J-350QVP S Sit Down Free Motion Quilting Machine and Table. The only sit-down longarm quilter with automatic thread trimmers and built-in JUKI SmartStitch stitch regulator system. Up to 50″ wide table (with optional leaves) on adjustable height metal stand with wood top and leaf for the left or right side, 30″ overall depth, made in Japan. No Tax ,Free Shipping. Juki is the number 1# manufacture of professional, industrial sewing products.
MSRP: $7,999.99
Sale Price & Purchase
Specialty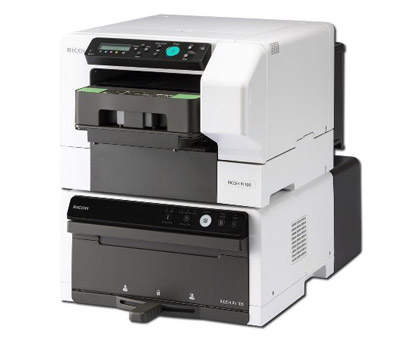 RICOH Printer
The RICOH Ri 100 revolutionizes the world of direct-to-garment (DTG) printing. Named a CES 2018 Innovation Award Honoree, the Ri 100 is the most affordable, easy to use and portable DTG printer on the market. The Ri 100 is the perfect first step to launch your custom T-shirt printing business! No prior experience is necessary to create beautifully printed products safely and easily, in-house or on-the-go. With a low price and an easy-to-use design, the RICOH Ri 100 makes it easy to begin DTG printing right away. Because all printing is on-demand, you can fulfill even highly-customized orders quickly and efficiently. EXCELLENT OPERABILITY, SAFETY, AND EASY MAINTENANCE. This printer reaches the heights of easy operability and is designed with safety as a top priority. For example, the intuitive design allows even beginners to preheat, print, and use the Finisher option to fix the design safely. Periodic maintenance is a carried out through a simple process (automatic and semiautomatic).
MSRP: $5,999.99
Sale Price & Purchase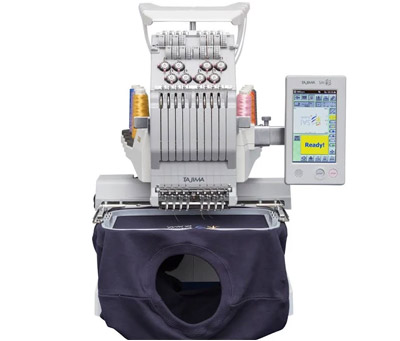 JUKI Sai 8 Needle Embroidery Machine
Bring color to your world with JUKI SAI by Tajima! With JUKI SAI, embroidery enthusiast and professionals alike will enjoy an 8 needle operation that allows for multi-color creations with fewer thread changes. With the addition of 800 stitches per minute, your designs will quickly become a reality! This model offers high-quality finishing and durability with the production power of an industrial embroidery machine condensed into a compact body.
With JUKI SAI, it is possible to embroider multi-color designs with few thread changes. With a structure that inherits the high performance of industrial embroidery machines, fine lines, and wide areas can also be beautifully embroidered. JUKI SAI can complete 800 stitches a minute while maintaining high-speed through various stitch lengths. Call or stop in today to learn about ALL of the great features on this machine!
$13,999.99
Sale Price & Purchase
Juki QVP Machines
The Juki QVP products portion of our website can only be purchased in our stores or territory of Michigan. Please call for details.
Stop in for Your Stitch Fix Today!