Skip to Content
Sergers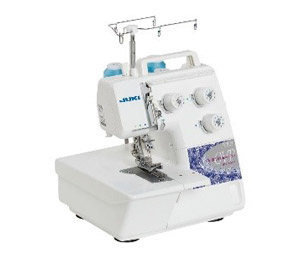 MCS 1700QVP
Create a professional finish on textiles and garments with the MCS-1700QVP, coverstitch and chainstitch sewing machine. The 3- and 4-thread coverstitch is perfect for various applications. Gather and create simple hems with chainstitch. Super Easy Looper Threading: The lower looper threader disengages for fast, easy looper threading, in seconds. Just slide the thread into the slot and snap the looper into place. Differential Feed Adjustment: Adjust the differential feed to sew beautiful finishes. This includes stretch fabrics, such as, knits and georgette. Extension Plate with Seam Guidelines: The seam guide lines on the extension plate are a useful aid for sewing. Adjustable Presser Foot Pressure: Presser foot pressure can be increased or decreased by turning the knob. Selectable Stitch Width: Either stitch with 2.5mm or 5mm.
MSRP: $1,099.00
Contact Store for Price & to Purchase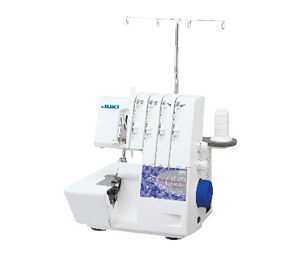 MO 1200QVP
The compact and easy-to-operate JUKI MO-1200QVP gives you easy and affordable access to the fascinating world of overlock. The JUKI MO-1200QVP can sew stretchy and knit fabrics, such as silk, fleece, and denim with ease thanks to the adjustable thread tension and the 2-, 3-, and 4- thread options. Perfect narrow seams, decorative rolled hems, and gathers can now be done far more quickly and skillfully.
MSRP: $899.00
Contact Store for Price & to Purchase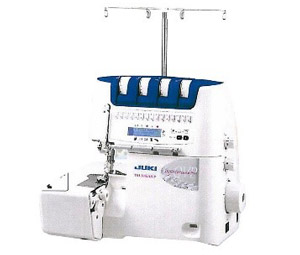 MO 2000QVP
Effortless threading with the power of air Simplified Serging with informational LCD Screen. Convenient Threading with the Easy Threader: Using the new easy threader feature, easily thread the machine from the threading hole to the looper with the power of a strong whoosh of air sent from the electric motor. This amazing function dramatically alters upper and lower looper threading. Automatic Needle Threader Quickly thread the needle! With the automatic needle threader, the needle is threaded in 3 easy steps. Informational LCD Screen: Easy set-up instructions including tension settings for 15 different stitches at a glance on the LCD screen. No more searching through pages of your manual, serging is simplified with the informational LCD screen.
MSRP: $1,999.00
Contact Store for Price & to Purchase
Juki QVP Machines
The Juki QVP products portion of our website can only be purchased in our stores or territory of Michigan. Please call for details.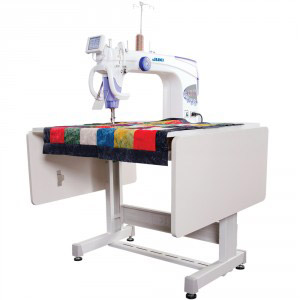 MIYABI QVP Sit-Down
Introducing the Juki TL-2200QVP-S Sit Down Free Motion Quilting Machine and Table. The only sit down longarm quilter with automatic thread trimmers. Up to 50" Wide Table (with optional leafs) on adjustable height metal stand with wood top and leaf for left or right side, 30" overall depth.
MSRP: $6,999.00
Contact Store for Price & to Purchase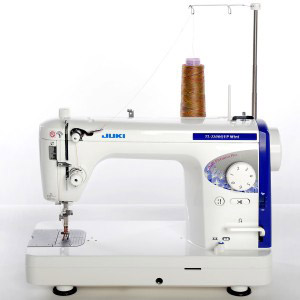 TL 18QVP HARUKA
TL-2200QVP Mini is a single needle, lock-stitch, portable sewing machine, constructed of aluminum die-casting to ensure industrial-quality sewing. With a large work area of up to 23 inches (with auxiliary table attached), the TL-2200QVP Mini can handle large quilts with ease.
MSRP: $1,899.00
Contact Store for Price & to Purchase
Stop in for Your Stitch Fix Today!